Services Overview

Material and Installations
Hardwood
Laminate
Carpet
Ceramic
Vinyl

Do It Yourself - We Can Help
Pre-inspection of your sub-floor (for hardwood and laminate)
Calcium chloride testing
Moisture readings
Undercut rock/brick fireplaces
Undercut door jambs
Level slabs

Take Up & Haul Off
Hardwood
Laminate
Tile
Carpet
Vinyl
VCT
Our Services
Hardwood Flooring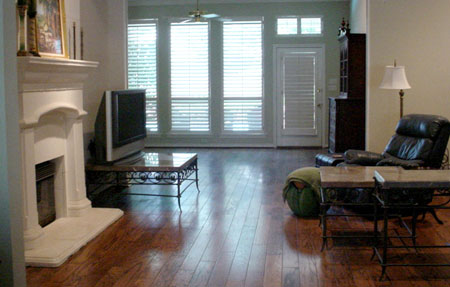 Solid wood is manufactured as one complete piece of solid wood. It is usually ¾" thick with the widths of the boards being 2 ¼" to 5" wide. It is installed on the job site, then sanded, stained and finished. Solid wood floors react to the environment in which they are placed. In the winter, the moisture content of the wood is reduced which causes the floor to contract or leave gaps between each board. In the warmer, summer months when it is humid, the humidity enters the wood which will cause the wood to expand. If there is a high level of moisture, the floor can also cup. Installing a sub floor and solid wood floor will raise the height of your existing floor by 1 1/2".

Engineered hardwoods are made of several layers, or 'plies' that are glued together in a cross-grain construction. This type of construction is far stronger than a single piece of solid wood; and it's also more structurally sound – it won't buckle, gap, cup or twist. Engineered hardwoods can be installed below grade and direct to concrete - solid wood floors can not. The top face or veneer is crafted to provide the most uniform color and the most resistance to seasonal expansion. An engineered pre-finished floor has the finish applied at the mill where the floor is made. This allows for a more consistent looking finish with fewer imperfections than a floor that has been installed and then sanded and finished. This also means a pre-finished floor can be installed and walked on much sooner than a sand and finish floor and also with less mess and smell.

Since 1995, the amount of engineered wood in residential use has increased significantly. The stable construction of engineered wood reduces twisting and cupping. It also handles seasonal changes with less stress and movement (expansion and contraction). Because the best wood is used only on the face, engineered wood floors use forests more efficiently, with less impact on the environment. They also acclimate faster on the job which reduces construction time.
There are several types of finishes used on engineered floors such as aluminum oxide, Titanium ScuffGARD, ScufResist™ PLATINUM and UV cured finishes to name a few. These provide a durable yet transparent wear protectoin that resists scuffs and will give you many years of use.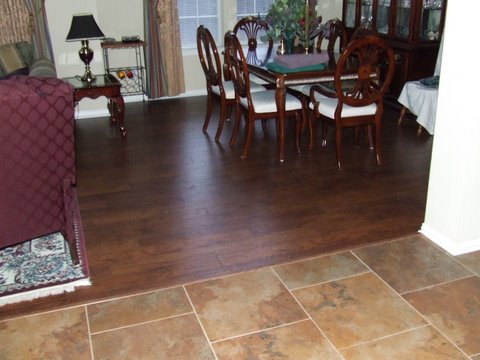 Laminate Flooring
Laminate flooring has been popular in Europe for many years and its popularity has caught on in the US. Laminate floors are extremely durable and can be used in a wide array of applications from a simple bedroom in your home to the showroom floor of an automobile dealership. Most of the laminate flooring manufacturers have some pretty impressive advertising campaigns. We recommend that you read all of the details of each product before you make your decision based solely on advertising you have seen on TV, in a magazine or in your local home improvement store.
Laminate flooring is a plank type floor, constructed of different layers. Most people think of "Pergo" when they think of laminate. Usually, the top layer or "wear layer" is clear. Although it is similar to a counter top laminate, it is almost always 10% to 40% stronger than counter tops, and more resistant to scratches, burns, chipping, dents, etc. The second layer is usually the design or decorative layer which gives it the unique look of wood, or in some cases, tile. Some manufacturers add a third or "base" layer for greater stability. All of these layers are fused by heat and pressure to a high density core. Some cores are constructed of high density fiber and some are constructed by wood particles. A high quality laminate is very resistant to scratches, making it a great flooring choice for homes with high traffic areas, large dogs and children.